Branding; more than just a logo.
Earlier in the year we were approached by Stacey Raven, an independent Midlands based photographer. Stacey asked us to re-brand his business as he felt it wasn't effectively targeting his key audiences or portraying his personal style.
Stacey wanted us to develop a brand strategy that would provide brand consistency throughout his marketing collateral as the business grows. Stacey has 3 service areas:
1. Wedding Photography
2. Portrait Photography
3. Event Photography
Therefore it was important to form a brand that would act as an umbrella for all 3 services.
The previous logo was typographical, expressing little character or personality of the brand. We explored what might be an obvious solution in using a 'raven' to form part of the brand identity or brand mascot. However, following our research it was quite clear and a concern to Stacey that most raven logos had strong gothic connotations and we would need to avoid this if it was going to work successfully as a brand.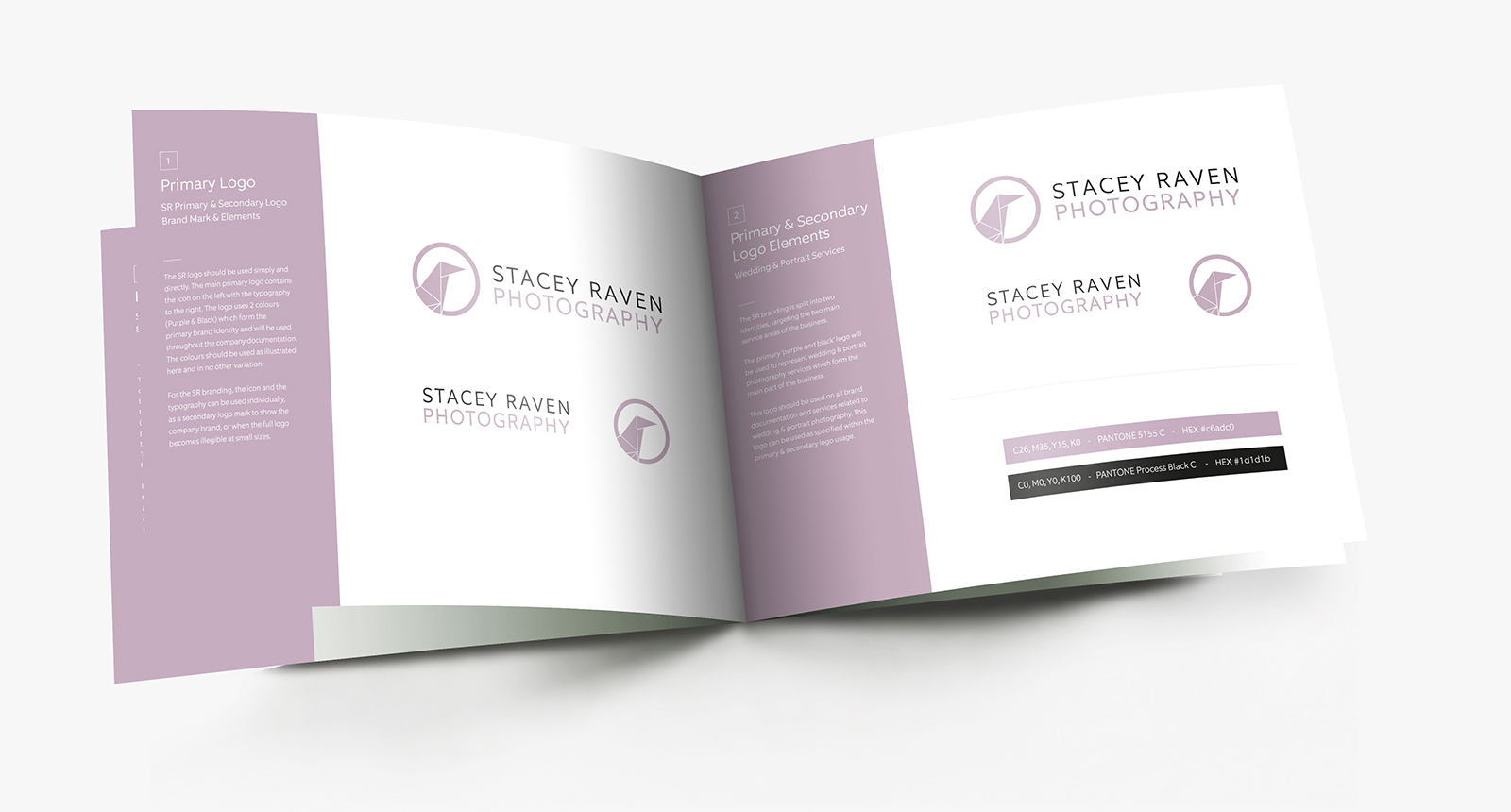 In order to avoid this, our research lead us to explore geometric shapes and styles in order to form a more artistic & intricate approach to the raven. We wanted to use a traditional style with a contemporary twist which symbolised Stacey's approach to photography. In this instance we used triangles for the body form of the raven icon which became the main focal point of the primary logo and brand mascot.
Whilst the logo and brand was taking shape, it was important to consider the three service areas and how they could be differentiated. We used the brand colours to do this.
Stacey wanted a brand that was fairly neutral and we found the pastel purple and green reflected his clean, simple but creative tradition/contemporary fusion style. By selecting these colours we were able to split the brand to differentiate the services on offer:
Purple = Wedding & Portrait Photography
Green = Event Photography
This would be reflected on both online and printed collateral so customers can clearly identify what service group they are in.
The brand strategy also consisted of creating a brand guidelines booklet that included the information required to ensure the brand remained constant on all media moving forward. This included:
1. Primary Logo
2. Secondary Logo
3. Brand Mascot
4. Logo & Mascot Usage
5. Watermark & Usage
6. Web Applications (Including Social Media)
7. Stationery / Collateral
8. Brand Colours
9. Brand Typefaces
10. Typeface Usage
To see more, please visit our work page
Twentytwo Digital
General updates from the team.